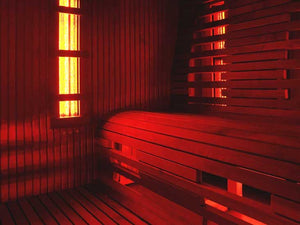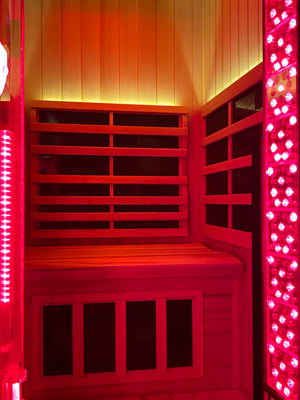 INFRARED SAUNA FULL SPECTRUM
Our Full Spectrum Infrared Sauna  (near/mid/far) uses Full Spectrum rays combined with LED Chromotherapy (light therapy) to heal stimulate and detox the physical body and mind.Infrared  technology brings forth a therapeutic treatments that is not only relaxing but also clinically shown beneficial for your health.  Full Spectrum Infrared Therapy uses waves or rays of energy to slightly elevate the surface temperature of the body. Does not contain the harmful UV rays associated with unprotected sunlight. When we do this, it enhances your body's core to a cellular level, where most toxins are stored. Infrared's deep penetrating heat is what most effectively stimulates metabolic activity, which in turns triggers the release of stored toxins through sweat, as well as through the liver and kidneys. What are some of the benefits when using our sauna? Increased metabolism, detoxification, glowing skin, relaxation and stress reduction, soothe sore muscles, helps cognitively, supports cardiovascular health, improve circulation and pain relief are just a few of the ways infrared sauna can benefit our bodies.  
    Each session with be 40 min
BEFORE YOUR SESSION:
Pre Treatment remove all makeup and come with a fresh face. This will allow your skin to receive the full benefits. HYDRATION is key ! Please hydrate before. Once you start sweating with us more we recommend you drink lots of water but also with a good source of electrolytes .
WHAT TO WEAR:
To enable infrared to penetrate tissues as deep as possible, we recommend wearing as little as possible. A bamboo carbon body wrap, cotton towel, gym shorts or swimsuit are perfect options. 
WHEN WILL I START SWEATING:
Sweat levels differentiate between each individual. Don't be surprised if you don't sweat during the first few sessions. Sweating will increase with regular use. Even if your body is not drenched in sweat, your body is still detoxifying from harmful toxins. Also, be sure to drink plenty of water , if you are dehydrated you will not sweat as much. 
AFTER YOUR SESSION: 


Dry off with our Bamboo towels and allow the body to cool down naturally . We highly recommend you wait at least 20-30 minutes to shower after your session as your want to keep your heart rate up, continuing to detoxify and burn calories! Make sure to stay hydrated with water and electrolytes.