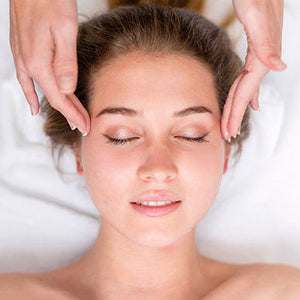 Quick Ayurvedic Face Lift Massage
Quick Ayurvedic Face Lift Massage
The shorter version of our highly popular Ayurvedic Face Lift. Perfect as an add on to an Abhyanga, Shirodhara or any of our other healing therapies. 
Focusing on marma points where tension is held, this specialized technique utilizes a combination of gentle strokes, Ayurvedic marma point therapy and acupressure to awaken the face and stimulate circulation and collagen production. In addition, the Ayurvedic face lift massage focuses on lymphatic drainage to help reduce wrinkles, lift the skin, and bring a glowing radiance to the entire face.  
Cannot be treated with any of the following symptoms: fever, cold or flu / eye, tooth or gum infections / botox injections and fillers within the past month / sunburnt skin / cancer / contagious skin conditions on the face.
Duration - 30 Minutes